Thanks to intensive work on technical solutions with the American company Acroname, we have established a strong partnership. Acroname specializes mainly in USB Hubs and MTM measuring platform. The company's total portfolio includes:
Programmable USB Hubs / Switches and USB cabling
Sensors (Lidar, Radar, Sonar, Thermal, ToF, and more)
Production test modules (DAQ, USB, Power, DIO, Ethernet, Relays)
Development tools (Relays, serial communication, servos, microcontrollers and more)
We recommend to our customers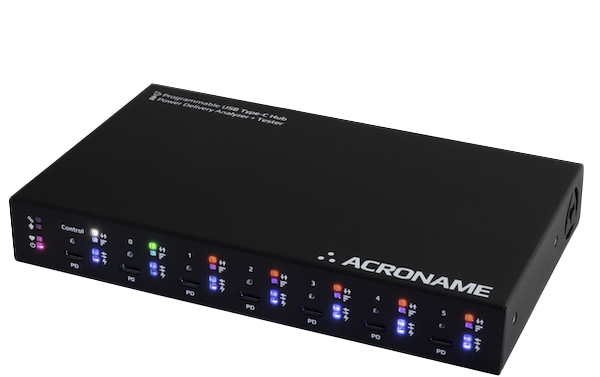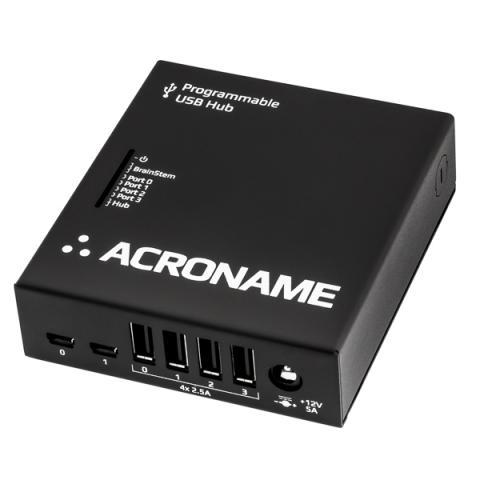 Software Regression | Mobile Device Testing

Acroname provides software control with a simple, elegant API to monitor and manage your usb control hub exactly the way you want to. Enable ports in exactly the sequence you choose and restore COM ports in the correct order. Accurately monitor the power in your test environment. Enable any port via software to ensure that you are only communicating with the DUTs you want.

We designed Acroname hubs with world-class hardware that you can trust to keep running. We understand the rigors of production testing and the reliability demanded by manufacturing teams. High power drive requirements? Short circuited DUT? Reversed power supplies? No problem. Even ESD certification labs can't break these hubs. Compare Acroname hubs with others to see for yourself: Acroname hubs lead the industry in uptime and robustness.

Acroname hubs accurately monitor voltage and current on each port, so you know exactly how much energy is used to charge your device or battery. Once your device is charged to your specifications, you can disable power on that port to ensure that the device does not get too much energy or overcharge.

A/V during meetings just got easier. When meeting attendees bring their own devices, Acroname USB hubs tame the chaos. Easily share room resources, automatically switch between projectors, computers and devices, and monitor connected devices so information and equipment are up and secure.
System backup and cold-spares

With Acroname USB Hub 3+, you can minimize the risks involved with backing up your system. Don't let ransomware take your connected USB backup drive! With an Acroname Programmable USB hub, seven backup drives are used together to create seven different daily backups — one for each day of the week. For extra protection, you have the option to safely disconnect the drives, use a batch file for the command, or set up two hubs for extra backup. Read our blog to learn more about how our USB Hubs can do your system backup for you.
Harsh industrial environments

Not all hubs are created equal. Many industrial USB hubs are simply consumer-grade hubs which are repackaged to metal enclosures. Our engineers designed Acroname hubs from the ground up with careful attention to the types of issues that cause hubs to fail, including ESD strikes. Come see how Acroname hubs exceed the toughest ESD standards in the industry and some of the industry leading tools we used to do it.
We will order and deliver products from the Acroname portfolio to you. Just contact our sales department at sales@kentigen.com
Acroname described our collaboration on the EOL test system project for automotive USB-C hubs in a professional article that can be downloaded here.