Díky intenzivní práci na technických řešeních s americkou společností Acroname jsme vytvořili silné partnerství. Acroname se specializuje převážně na USB Huby a MTM měřicí platformu. V celkovém portfoliu společnosti jsou:
Programmable USB Hubs / Switches and USB cabling
Sensors (Lidar, Radar, Sonar, Thermal, ToF, and more)
Production test modules (DAQ, USB, Power, DIO, Ethernet, Relays)
Development tools (Relays, serial communication, servos, microcontrollers and more)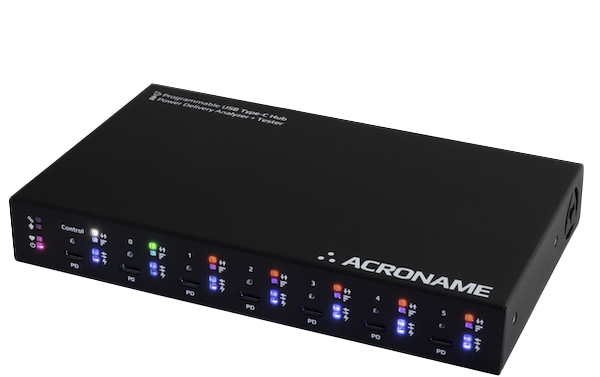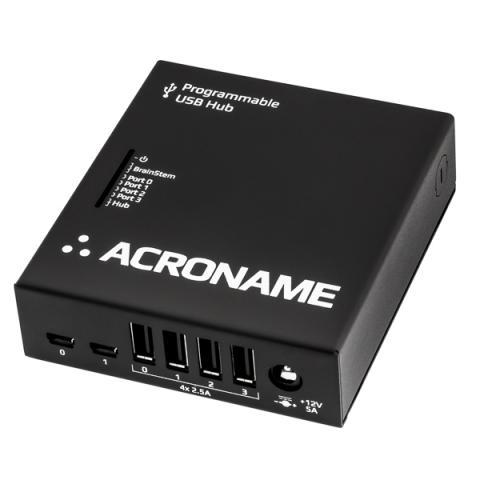 Regresní testování | Testování mobilních zařízení

S Acroname můžete přes jednoduché API softwarově ovládat a sledovat USB HUBu přesně tak, jak chcete. Povolujte USB porty ve vámi zvoleném správném pořadí. Přesně monitorujte výkon ve vašem testovacím prostředí. Povolte jakýkoli port prostřednictvím softwaru, abyste zajistili, že komunikujete pouze s DUT, které chcete. 

Acroname navrhnul USB HUB tak, že se na něj můžete spolehnout v náročném průmyslovém provozu. Rozumíme náročnosti výrobního testování a spolehlivosti očekávané výrobními týmy. Požadavky na vysoký výkony napájení? Zkratované DUT? Reverzovaný zdroj napájení? Žádný problém. Dokonce ani laboratoře pro certifikaci ESD zařízení nemohou tyto HUBy zničit. Porovnejte USB HUBy Acroname s ostatními a přesvědčte se sami: Acroname USB HUBy jsou špičkou v oboru v provozuschopnosti a robustnosti.

Optimalizované nabíjení zařízení

USB HUBy Acroname přesně monitorují napětí a proud na každém portu, takže přesně víte, kolik energie se spotřebuje k nabití vašeho zařízení nebo baterie. Jakmile je vaše zařízení nabito podle vašich požadavků, můžete vypnout napájení tohoto portu, abyste zajistili, že zařízení nebude dostávat příliš mnoho energie nebo, že se nebude přebíjet.
Audio Video v konferenčních místnostech

Správa AV techniky během schůzek je nyní jednodušší. Když si účastníci schůzky přinesou svá vlastní zařízení, USB HUBy Acroname zkrotí chaos. Snadno sdílejte zdroje v místnosti, automaticky přepínejte mezi projektory, počítači a zařízeními a sledujte připojená zařízení, abyste měli přehled a vaše vybavení v bezpečí.
Zálohování systémů a cold-spare zálohy

S Acroname USB HUBy můžete minimalizovat rizika spojená se zálohováním systému. Nedovolte, aby ransomware zasáhnul váš připojený záložní USB disk! S osmiportovým Acroname USB HUBem můžete jednoduše vytvářet denních záloh na sedm různých zálohovacích disků – jedné pro každý den v týdnu.
Drsné průmyslové prostředí

Ne všechny USB HUBy jsou si rovny. Mnoho průmyslových USB HUBů jsou jednoduše spotřební zboží, které je zabaleno do kovových krytů. Inženýři z Acroname navrhli USB HUBy od základu s pečlivou pozorností k typům problémů, které způsobují jejich selhání, včetně výbojů ESD. Přesvěčte se, jak USB HUBy Acroname překračují nejpřísnější standardy ESD v oboru.
Produkty z portfolia společnosti Acroname Vám objednáme a dodáme. Stačí vyplnit poptávkový formulář.
Other products from our offer