SystemLink: od jednoduché aplikace k Silver Aliance specializaci
Kentigen jako systémový integrátor NI používá a nasazuje NI software napříč různými projekty. Čas od času chce zákazník nasadit NI i jiný software na více stanic s možností údržby verzí. To byl okamžik, kdy jsme se v Kentigenu začali zajímat o SystemLink. Architektura server–klient umožňuje údržbu více počítačů z jedné stanice nebo z PC ve stejné síti, protože k serverovému rozhraní SystemLinku lze přistupovat prostřednictvím IP adresy. Činnosti, které běžně systémovému inženýrovi zabraly spoustu času, jako instalace více individuálních balíčků pro LabVIEW spolu s nejrůznějšími závislostmi (Runtime enginy), zaberou se Systemlinkem pouze několik kliknutí:
Instalace balíčků pro LabVIEW a jiného zákaznického SW přes webové rozhraní
Veškeré závislosti jsou nainstalovány automaticky spolu s aplikačním SW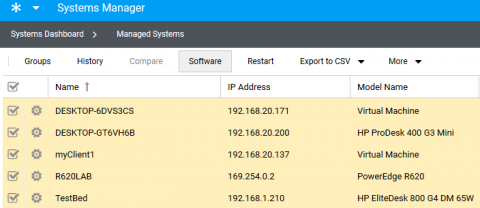 Případová studie aktualizace systému:
8–10 systémů je již na hranici časové návratnosti
Aktualizace malé aplikace (žádné čekání kvůli kopírování dat)
Ruční update prováděl zkušený operátor
Úspora času roste s velikostí SW balíku a počtem systémů.
Na základě předchozí studie máme tyto závěry:
Monitorování stavu systému
Správa připojených zařízení (podobně jako v NI MAXu)
Monitorování zatížení CPU, využití RAM, HDD
Self-testy, autokalibraci, reset a present-state kontrolu
Tyto a další informace je možné odesílat ze spravovaných zařízení na SystemLink Server jako tagy prostřednictvím NI SkyLine Data Services. Je také možné konfigurovat alarmy – když hodnota tagu překračuje limit, operátor obdrží emailové upozornění. Informace z tagů lze zobrazit na jednoduchém webovém uživatelském rozhraní – dashboardu.

Kromě sledování stavu systému může SystemLink sdružovat:
Testovací a měřicí data ze všech testovacích systémů do centralizovaného úložiště dat
Prognózy kalibrace a historie výsledků testů
SystemLink je jedním z nejnovějších produktů společnosti NI. Snažíme se držet krok s nejnovějšími produkty NI platformy. To nám pomáhá navrhnout nejvhodnějsí řešení pro zákazníka. Prezentací a uchopením výhod SystemLinku pro zákazníka na základě jeho potřeb se Kentigen stal SystemLink Silver Partner NI.